Craft Cask Ale
What's On Our Craft Cask Ale Pumps
Our current selection of craft cask ale.
Wild Mild
Butts Brewery | ABV 3.5% | £3.80.
Classic Mild
US Lite Ale (V2)
North Riding Brewery | ABV 3.5% | £3.80.
Table beer brewed with Cascade, Centennial, Citra
Flowerpots Bitter
Flowerpots Brewery | ABV 3.8% | £3.80.
English Bitter
Suspended In Blanc
Siren Craft Brew | ABV 4% | £3.80.
Hallertau Blanc was originally designed to offer wine-like notes of gooseberry and grass, similar to a Sauvignon-Blanc, complementing our hazy pale perfectly. Hops: Hallertau Blanc, Simcoe & Citra
DDH Chinook Azacca
Almasty Brewery | ABV 4% | £4.20.
Chinook and Azacca DDH Pale Ale
King Billy
Five Towns Brewery | ABV 4.3% | £3.80.
Antipodean pale using Pacific Jade and Nelson Sauvin hops
Illusion
Moor Beer | ABV 4.5% | £3.80.
Session-strength Black IPA. Powerfully hopped on the dark side. Break your chains.
Bronco Buster
Ascot Ales | ABV 4.8% | £3.80.
IPA brewed with Munich and Vienna malts, loads of lovely hops in the copper then dry hopped with buckets of Citra and Nelson Sauvin.
Level Up 'Level 15'
Elusive Brewing | ABV 5% | £3.80.
A red ale that balances six different malts against heavyweight hops to produce a beer with great depth of flavour and aroma. Old favourite Citra is paired with dank and herbaceous Warrior in this iteration.
Overdrive 'Lap 9'
Elusive Brewing | ABV 5.5% | £3.80.
An aromatic and crisp American pale ale hopped with tropical Waimea and dry-hopped with juicy and fruity Vic Secret.
De Abdij And the Mill
Kirkstall & De Molen Collaboration | ABV 6% | £4.80.
Oatmeal Stout in collaboration with De Molen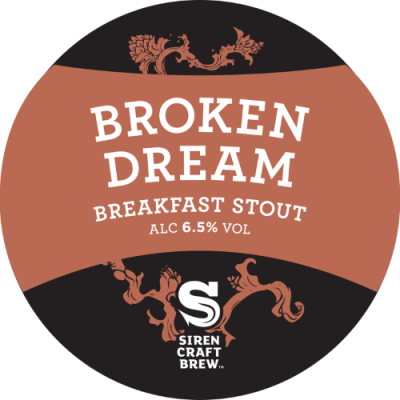 Broken Dream
Siren Craft Brew | ABV 6.5% | £4.20.
A Breakfast Stout with a gentle touch of smoke, coffee and chocolate. She binds smoke and coffee aromas with chocolate, milk and oats to create something thick, velvety and slick. Champion Beer of Britain 2018