Craft Cask Ale
What's On Our Craft Cask Ale Pumps
Our current selection of craft cask ale.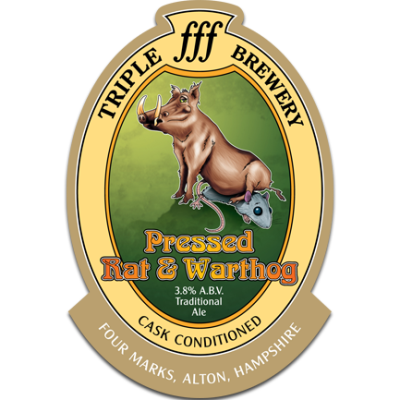 Pressed Rat & Warthog
Triple fff Brewery | ABV 3.8% | £3.80.
Ruby coloured, dark chocolate aroma with hints of blackcurrant and plum leads to a soft yet full roast flavour, fruit and malt vying with the rounded hoppy bittersweet finish.
Pyramid of Doom
Elusive Brewing | ABV 3.7% | £3.80.
A super-sessionable Hazy Pale Ale, generously single-hopped with Ekuanot
Fortitude
Bristol Beer Factory | ABV 4% | £3.80.
A beautiful amber colour, with perfect balance between finest English Maris Otter malt and classic Southern English hops; malty, clean, moreish. Fortitude is a 4.0% bitter with attitude.
Suspended In Oats
Siren Craft Brew | ABV 4% | £3.80.
Soft body, mandarin orange and pineapple aroma and more of the same in the taste, with some piney, dank and evergreen notes underlining
Best of Both Worlds
Sherfield Village Brewery | ABV 4.1% | £3.80.
Best Bitter with NZ & UK Hops
Kaleidoscope
Wiper & True | ABV 4.2% | £3.80.
Pale ale using three different hops to create a seasonally evolving flavour profile. Whilst the hops change, our intention remains the same - to create a beer that is harmonious, bright and refreshing.
Spycat
Elusive Brewing | ABV 4.5% | £3.80.
A classic American Brown brewed with oat malt for a smooth body. Hopped with Cascade and dry-hopped with Blanc and Summit.
Medjuica
Siren Craft Brew | ABV 4.8% | £4.20.
Full of grapefruit and citrus flavours with some popping pine and resin notes. Citra, Simcoe, Mosaic and Ekuanot in the dry-hop provide an amazing aroma of ripe mango, orange, tropical fruit and some fresh hop dankness
Baby Barleywine
Marble Brewery | ABV 4.9% | £4.20.
All the intensity and balance of a barley wine at a session-able strength. A touch of Vienna on top of our standard pale malt and a prolonged boil give a biscuit and caramel base. Lavishly hopped with cascade, citra, chinook, el dorado, centennial and simcoe for flavours and aromas of pine, stone fruit, grapefruit and orange. A lingering but balanced bitterness leading to an incredibly drinkable beer.
Pothealer IPA
Sherfield Village Brewery | ABV 5.5% | £3.80.
Where's My Frankfurter
Three Blind Mice Brewery | ABV 6.3% | £4.20.
Rauchbier stout
Dark Necessities
Bad Co Brewing | ABV 5.5% | £3.80.
Milk Stout