Craft Cask Ale
What's On Our Craft Cask Ale Pumps
Our current selection of craft cask ale.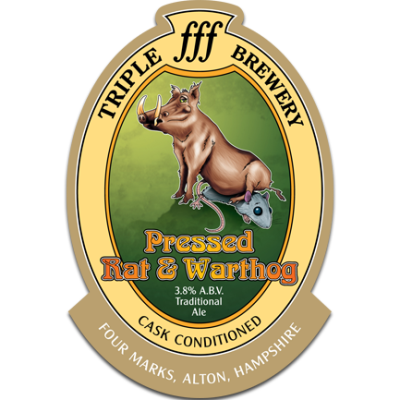 Pressed Rat & Warthog
Triple fff Brewery | ABV 3.8% | £3.80.
Ruby coloured, dark chocolate aroma with hints of blackcurrant and plum leads to a soft yet full roast flavour, fruit and malt vying with the rounded hoppy bittersweet finish.
US Session IPA (V39)
North Riding Brewery | ABV 3.8% | £3.80.
DDH Ekuanot Pale
Almasty Brewery | ABV 4% | £4.20.
Double Dry Hopped and full of body, this super drinkable session pale offers the aroma, mouthfeel and flavour of a bigger beer in a hazy 4% pale that showcases the zesty Ekaunot hop
Suspended In Fog
Siren Craft Brew | ABV 4% | £3.80.
London Fog yeast replaces Siren's house yeast for this iteration of the Suspended series, bringing a sweet fruit character that when combined with the Mandarina, Chinook and Citra hops awakens an explosion of orange, tropical fruits and evergreen notes
Good Old Boy
West Berkshire Brewery | ABV 4% | £3.80.
A good balance of malt and hops giving a full-bodied bitter with strong malt flavours, yet retaining a rounded bitterness and a strong hop finish
United Nations of Chinook
Hopcraft Brewery | ABV 4.5% | £3.80.
Golden brew with Chinook hops from Poland, Slovenia and the USA for a herby, fruity taste
Clash London Porter
Revolutions Brewery | ABV 4.5% | £3.80.
Dark ale made with 5 dark malts and hopped with legendary US hops for smooth finish
Wales Coming Down - Ferrari's
Hopcraft Brewery | ABV 0% | £3.80.
Cambrian Root
Vibrant Forest Brewery | ABV 5.1% | £3.80.
This dark beer begins with smooth waves of chocolate and gently roasted coffee beans before a sudden and explosive burst of rich liquorice
Pub Crawl Brawl
Hopcraft & Hop Hooligans Collaboration | ABV 5.5% | £4.20.
Collaboration brew with Hop Hooligans. A strong New Zealand hopped pale ale, soft and fruity.
Yakima Valley American IPA
Arbor Ales | ABV 7% | £4.80.
We've pushed our small brewery right to the limits to create this bad boy. With the price of American hops so low this year, we decided to see just how many of them we could cram into a beer. Turns out the answer is "quite a lot!"
Full of Beans II
Wild Weather Ales | ABV 5% | £3.80.
The second iteration of the Wild Weather Full of Beans Coffee Stout series. Brewed with coconut, chocolate and cold-pressed coffee.