Craft Keg Beer
What's On Our Craft Keg Pumps
Our current selection of craft keg beers.
Little By Little
To Øl CPH | ABV 3.7% | £7.20.
Light, fresh and smooth – a real all-dayer.
Wheat Everyday
To Øl CPH | ABV 4.8% | £7.20.
Hazy orange wheat beer with a light, malty aroma overlaid with citrusy hop notes. Light and sweet flavours of apricot and citrus with a medium bitter finish.
Goldfinger
To Øl CPH | ABV 4.9% | £7.20.
Golden Ale
Pillow Talk
To Øl CPH | ABV 6.5% | £7.80.
New England IPA with all the haze and hops of your dreams.
Actinia
Vibrant Forest | ABV 7.1% | £6.00.
Actinia sees massive quantities of Mango, Guava, Passion fruit and Mandarin layered onto an oat and wheat heavy malt bill that's been soured with Lactobacillus. The result is explosive fruity mayhem. Sticky tropical purees coalesce around a scintillating acidity, itself smothered in a thick, oaty mouth feel. Juicy, puckering, indulgent, this is Actinia.
Too Much Excitement
Double-Barrelled & Elusive | ABV 4.4% | £6.00.
Yuzu sour pale with a Citra dry hop. Slightly sour, with grapefruit and limes on the nose from the yuzu, a Japanese citrus fruit. Super easy drinking & refreshing.
Vanilla: In Case Of Emergency
To Øl CPH | ABV 10.8% | £9.00.
Imperial Stout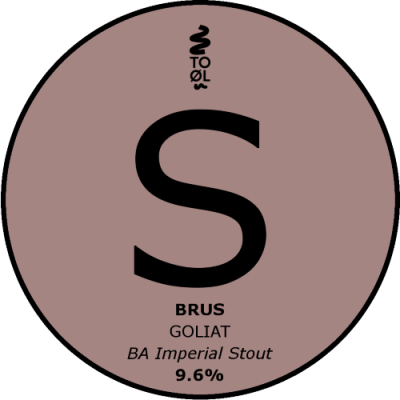 Goliat
To Øl CPH | ABV 9.6% | £15.00.
BA Imperial Stout: Aromas of coffee, liquorice, roasted malts, caramel, bourbon, and vanilla. Full bodied with flavours of coffee and roasted malts first, followed with enough bitterness to balance the initial sweetness. Delicious imperial stout, like the original, just great from start to finish.