Craft Keg Beer
What's On Our Craft Keg Pumps
Our current selection of craft keg beers.
Calypso 'Centennial, Chinook, Azacca, Loral'
Siren Craft | ABV 4% | £4.80.
Siren's signature Berliner-Weisse dry-hopped with Centennial, Chinook, Azacca, & Loral hops
Futter Wacken
Wild Weather | ABV 4.5% | £4.80.
Single Hop Citra Dry Hopped Beliner Weisse
Ekuanot Another GF Beer
Arbor | ABV 5% | £5.40.
Heavily hopped Ekuanot pale ale with fruity flavours and aromas of citrus, melon & papaya.
Ekuanot
Vibrant Forest | ABV 5% | £6.00.
Ekuanot hops imbue this pale with an aroma of tropical fruits, pine, and citrus. The flavour, however, is floor to ceiling pink grapefruit. Pink pith, pink flesh, pink juice, pink 'thick wedge with sugar and a curiously serated spoon for breakfast'. Mango and melon try and creep up but the grapefruit pounds them back down.
Karumandi Coffee Sour
Chorlton | ABV 4.5% | £5.40.
Collaboration with Ancoats Coffee Co. Brewed with Munich malt and infused with cold-brew single origin Kenyan coffee beans. Notes of citrus, gooseberry and redcurrant
Too Much Excitement
Double-Barrelled & Elusive | ABV 4.4% | £6.00.
Yuzu sour pale with a Citra dry hop. Slightly sour, with grapefruit and limes on the nose from the yuzu, a Japanese citrus fruit. Super easy drinking & refreshing.
IPA HPA-035 Idaho 7
Partizan | ABV 6.5% | £7.20.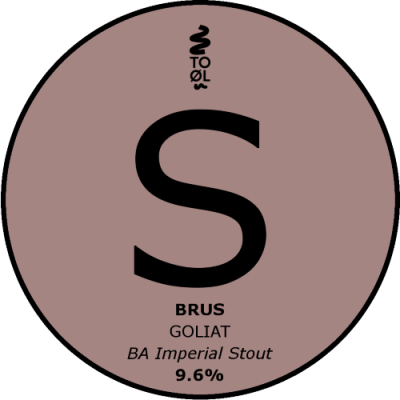 Goliat
To Øl CPH | ABV 9.6% | £15.00.
BA Imperial Stout: Aromas of coffee, liquorice, roasted malts, caramel, bourbon, and vanilla. Full bodied with flavours of coffee and roasted malts first, followed with enough bitterness to balance the initial sweetness. Delicious imperial stout, like the original, just great from start to finish.