News & Events
Takeaway Beer
Lockdown November 2020
We might be ending this crazy year in the 4th Tier...but the Nags are still offering takeout beer:
Which from today will be DOOR STEP DELIVERY within a 5 mile radius.
All beer will be delivered by ourselves in our own private vehicle and all containers sanitised before filling and upon delivery.
Please ignore the delivery slots...Orders before 13:30 will be delivered the same afternoon/evening between 14:30 and 18:30, orders after 13:30 may be delivered the following afternoon/evening between 14:30 and 18:30
Real Ale can be delivered in free 2.5L plastic containers, or in NEW Limited Edition Nags Head/Siren Craft stainless steel growlers.
Beer from the keg wall is recommended to be delivered in stainless steel growlers only so as to keep the beer properly carbonated.
Growers cost £20 for the small 1 litre version, or £25 for the large 2.5 litre version...and would make excellent Christmas presents, especially if full of beer!
Fresh casks on today include 'Fairytale of Brew York' from BrewYork, and 'Lumina' from Sirencraftbrew, along with other offferings from Delphic and Vibrant Forest
For full tasting notes and prices per litre see our websites:
Over 300 litres of real ale tapped and ready to go
Let's do our best for Christmas Tiers, Christmas Beers and Christmas Cheers...there's a rhyme there somewhere but right now...we've got beer to deliver!
---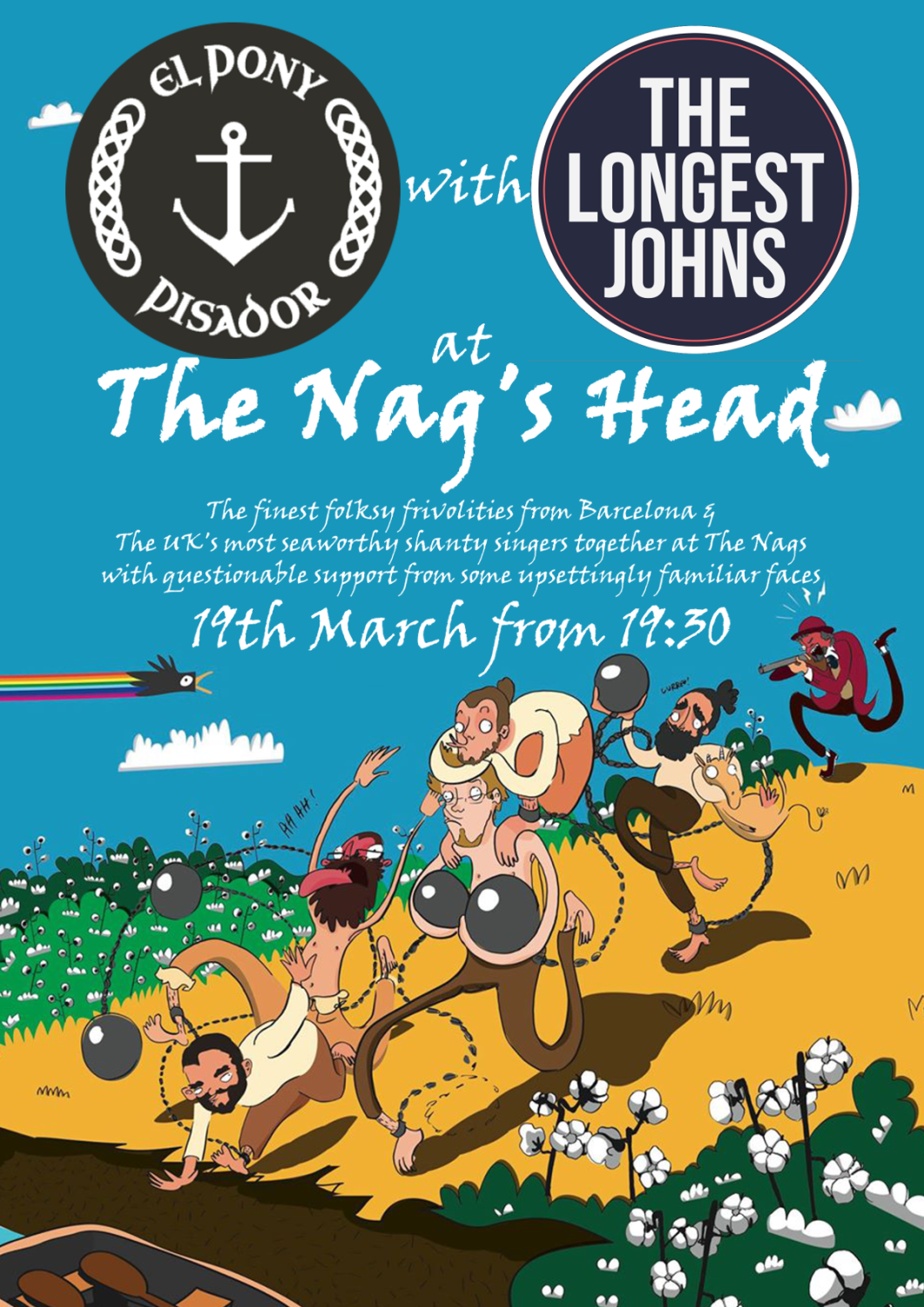 El Pony Pisador + The Longest Johns LIVE
Thursday 19th March 2020
Hoist yer mainsails! Two of the best young Shanty Folk groups around will be joining together for a show in the illustrious Nags head, Reading. Come and join us for a Thursday of sailing songs, rapid paced folk and enough great beer to drown even the most haggard sailors' sorrows!

El Pony Pisador (Transalation; The Prancing Pony) is a group of five young guys from Barcelona that mix traditional music from all over the world with a lively and carefree style. They like Celtic folk music and sea shanties, but you will find sounds from many different places. They dig deep into the music they discover to please both curious first-time listeners and ardent experts.

https://www.youtube.com/watch?v=HNmtZztLi6M

I doubt any of Bristol's The Longest Johns ever imagined they would be able to get so far on just four voices. In a few short years they have gone from singing sea shanties in a kitchen to International folk festivals, tours, TV appearances and gained a huge online following.

https://youtu.be/kCAUaRFxC_g

Joining them in support will be some upsettingly familiar faces you're sure to recognise from around the pub, delivering their own questionable brand of folksy entertainment to whet your appetites before the pros take the helm and show us how it's done.

FREE ENTRY (But there may well be a hat pass 'cause musicians need to eat too)

Kicking off around 19:30!
---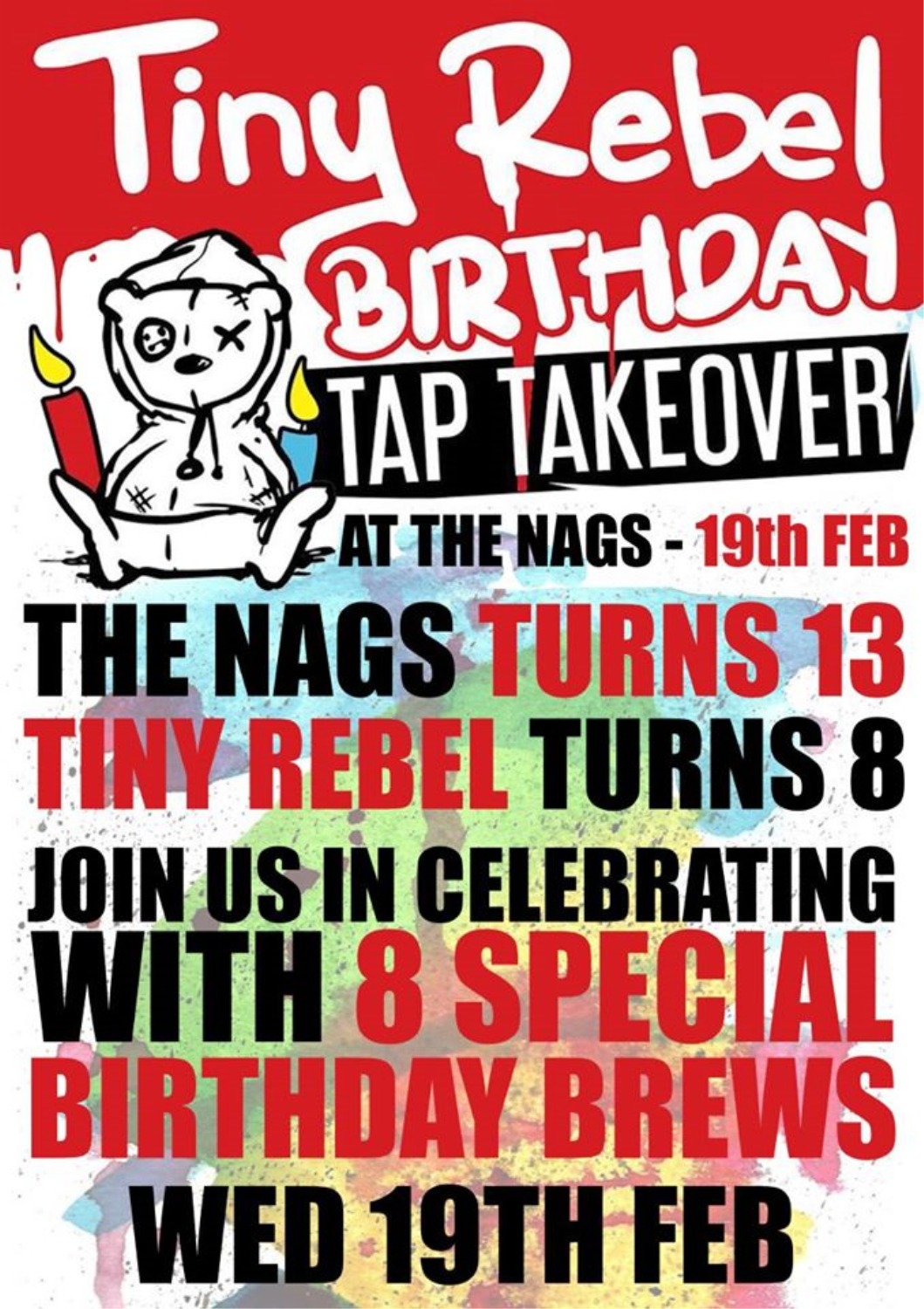 Nags Head 13th Birthday
Wednesday 19th February 2020
So this Wednesday, come 5pm, the Nags Head will become a stroppy little teenager…yep, we will be turning 13 years old…where has the time gone? Actually don't answer that!
To celebrate we will be showcasing Tiny Rebel's 8th Birthday blending beers…anyone heard of them before?!
For those that haven't, Tiny Rebel have released 8 special beers to celebrate their 8th birthday, which we have gate-crashed to celebrate our birthday!
The beers have been designed to be paired up in order to be blended together, hence making a bonus 4 birthday beers
The recommended pairing are these:
Dodge, Dip, Duck And Dulce - 'Dulce de Leche Pastry Stout' - 11%
Here Gose Nothing - 'Imperial Blackcurrant Pastry Gose' - 8%
Not So Fast Roundboy - 'Coconut & Vanilla Crème' - 5%
Shake 'N' Bake - 'Chocolate & Banana Protein Hardshake' - 6%
Fizzy Bubbly - 'Key Lime Lager' - 4.8%
Screwface - 'Sicilian Lemon Sour' - 4.2%
Holy Hand Grenade - 'Sabro & Nelson Sauvin NEIPA' - 6.8%
Paradise City - 'Loral & Mosaic NEIPA' - 6.8%
But hey, feel free to have a bit of fun and blend them however you like…or just don't blend them at all!
Or don't drink them at all and just stick to the dozens of nice ales on offer…or the dozens of nice ciders on offer…or just have a nice pilsner…we honestly don't really mind…maybe we'll order some MD 20/20 in
??
Anyway the long and short of it is we are entering our teens…we intend have a bit of fun…and you're all invited!
Hopefully see you Wednesday (don't forget it's a school night...home by midnight)
https://www.thenagsheadreading.co.uk/craft-keg/
---